News
---
Its use started with computer games and is now an important part of the medicine and care sector- VR
Casa Alcalde - - 2min
VR cannot only help in direct treatment, but also in the training of staff or in the provision of information for patients. What started out as an experiment is now making an enormous contribution to the healthcare sector. Especially for nursing homes and homes for the elderly, it is an efficient way to improve the quality of life of their patients.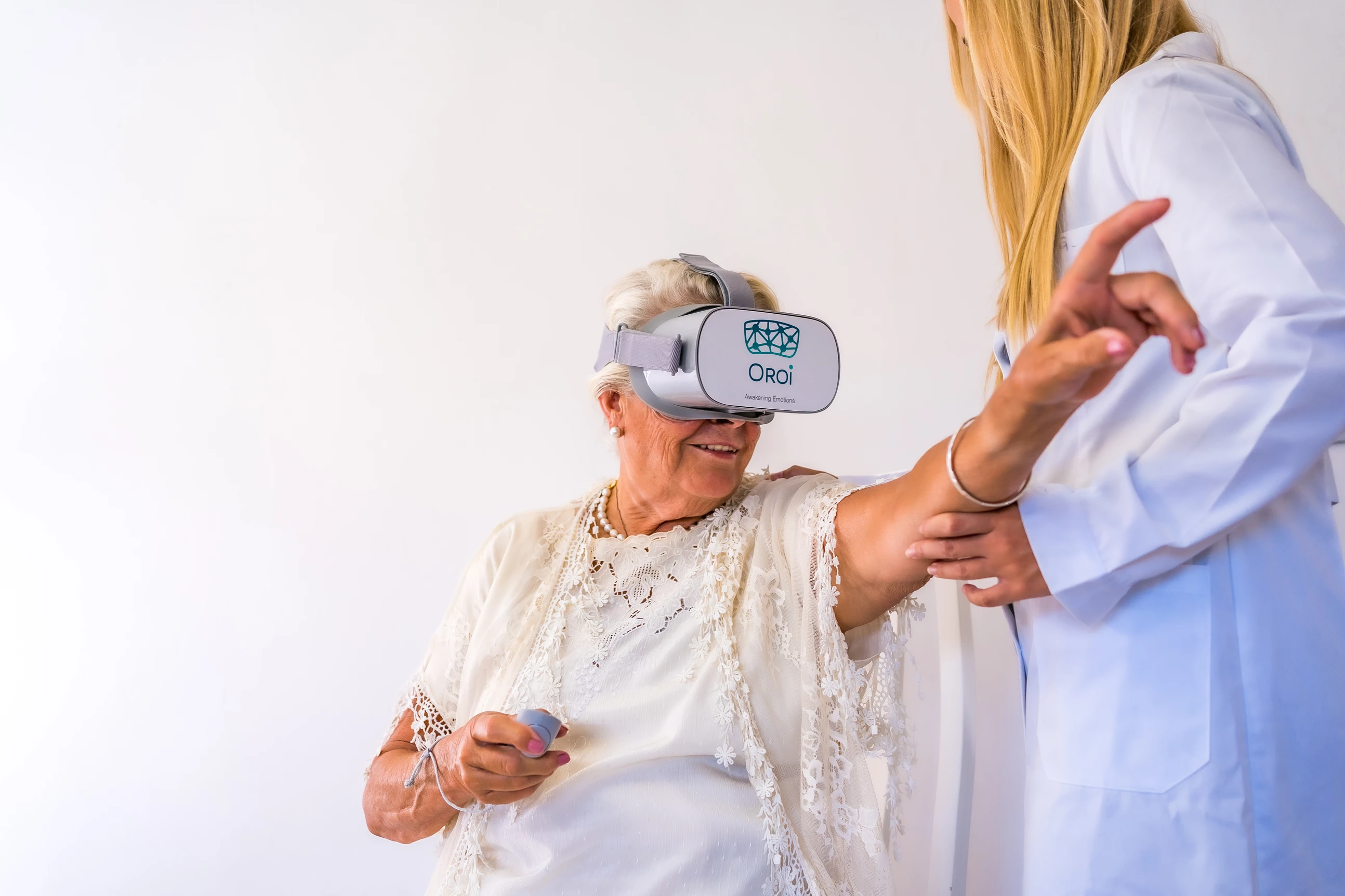 Its use started with computer games and is now an important part of the medicine and care sector- VR
---
Most studies focus on improving the lives of people with dementia. VR gives patients the opportunity to train their memory by reliving places with formative experiences - as if they were actually there. Oroi's VR platform even manages to fight cognitive decline and dementia with attuned content by training the body and mind at the same time. This represents a major breakthrough in dementia research.
Another aspect is the chronic pain relief provided by VR. According to an American study, playing VR games like OROI Cognitive can help relieve chronic pain. Neurological disorders are reduced the most.
Because of the shortage of skilled workers in nursing homes and clinics, Virtual Reality is increasingly used in staff training. Different situations can be simulated and depicted as realistically as possible. This makes it very easy for participants to absorb new content.
In conclusion, it can be said that Virtual Reality makes a great contribution to the health sector. VR represents constructive enrichment, because the communicative and mental areas of the seniors are strengthened. Due to the technical advancement, VR represents remarkable assistance in the health sector. Virtual reality based therapeutic solutions can help to save professional time with already designed activities, so that therapists do not have to invest so much time on this activity.
In summary, the following advantages arise for the seniors through coordinated 360-degree videos:
Relaxation, calmness (better mood, lower stress hormones, better breathing).

Improvement of the state of mind (escape from the often dreary everyday life in the senior citizens' home)

Memory -attention and language improvement potential

Activation of body and mind
No one is too old to benefit from new technologies! Convince yourself and book a free trial month at OROI without any obligation, product training included!
Sources:
https://www.ukv.de/content/service/gesundheit-aktuell/vr-in-der-pflege/
https://www.stelldirvor.jetzt/virtual-reality-in-der-pflegeausbildung-hoehere-patientensicherheit-durch-innovative-technologien/
https://www.br.de/nachrichten/bayern/virtuell-reisen-senioren-entspannen-mit-vr-brille,SWeC8Hq
https://www.aspekteins.com/vr-for-aged-care-vr-app-entwicklung-fuer-senioren-heime/
Kubek V., et. al (2020): Digitalisierung in der Pflege - Zur Unterstützung einer besseren Arbeitsorganisation
Glauner P., et. al (2021): Digitalization in Healthcare - Implementing Innovation and Artificial Intelligence
Pfannstiel M., et. al (2019): Digitale Transformation von Dienstleistungen im Gesundheitswesen
---